After Effects Animation Course – Motion Graphics And VFX
150+ Lesson
Exercise Files
Certificate
WhatsApp Support
Lifetime Access
Get Certificate After Course Completion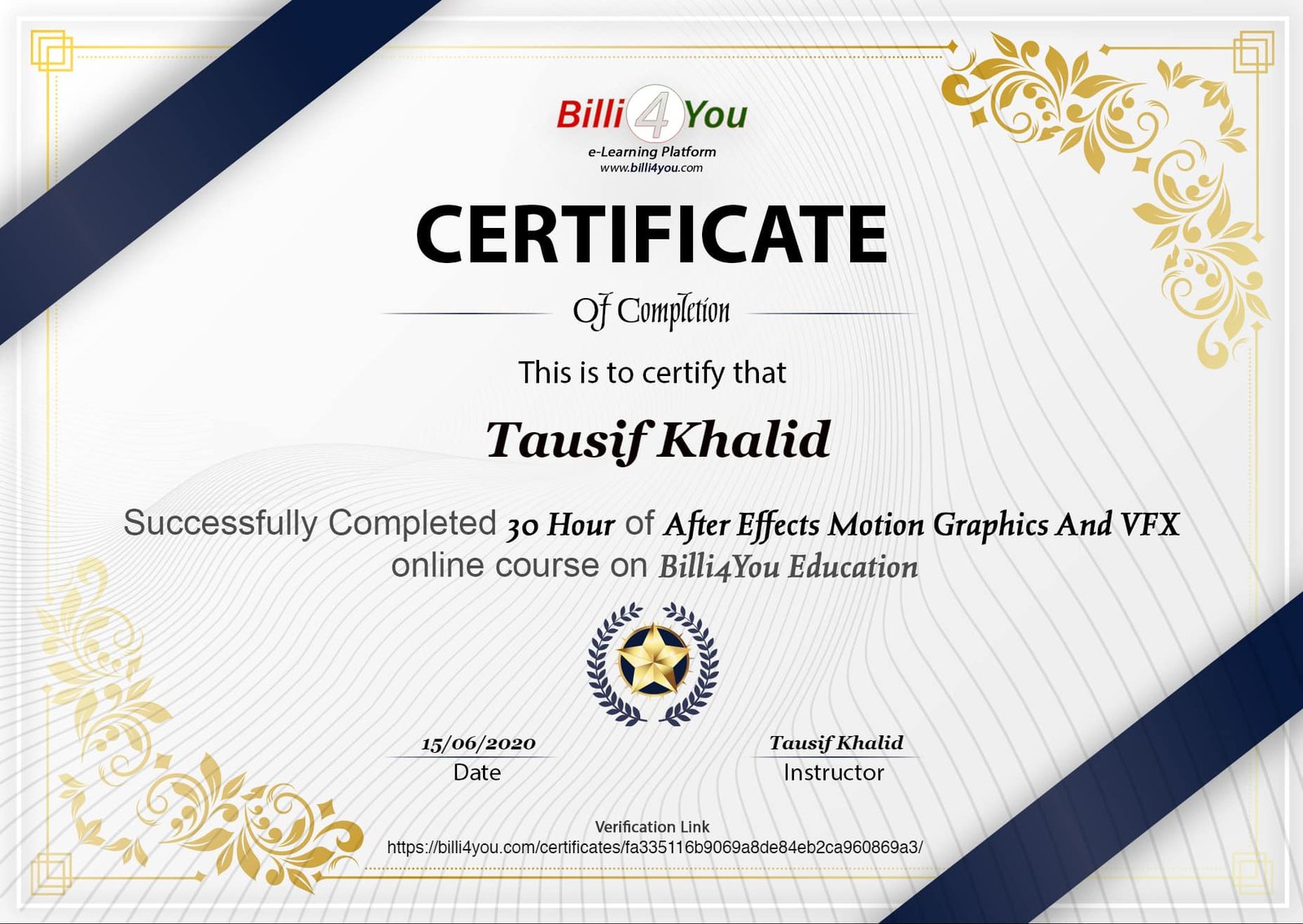 After Effects is a computer (Windows / Mac ) software related to motion graphics (Animation ) and VFX (Visual Effects), developed by Adobe, video editors, graphics designers, and animators mostly use this software.
If anyone wants to animate things like shape, text, images, and videos, this is the software. After Effects also Offer VFX ( Visual Effects ) related features like Masking, Keying, Tracking, 3D Camera, Lights. 
Thank you so much Tausif Sir for this amazing course. The teaching techniques are best with each and every small detail, very easy to understand. I would highly recommend this course to all those people who are willing to learn video editing and animation, this course is best. Thank you Tausif Sir once again.
When I start first time Adobe Premiere then I confused. I am very comfortable with this. The teaching style is very good. Each point of specific topic explained in good manner and step by step. I check the other youtuber also. They did not complete any single topic and they jump in other topic. But in this course it is not like that. Thank you.
मै शिव कुमार पिछले 10 वर्षो से ग्राफ़िक डिजाइनिंग के क्षेत्र मै कार्यरत हूँ, मै अपने स्किल को बढ़ाने के लिए अक्सर यूट्यूब अलग अलग टिटोरियल देखता रहता हूँ लेकिन आप के जैसे सिखाने वाला शिक्षक अभी तक नहीं मिला आपके सिखाने की कला अद्भुत है, छोटी छोटी बात को भी आपने अपनी वीडियो मे बताया है,
Dear Tausif Khalid Sir its amazing experience for making my own website by just watching few lectures, the way you teach is amazing sir, keeping things simple and systematic manner and in a way that everything becomes so simple which never before. I am very thankful to you for giving such guidance.
Introduction

What's New

Basic Guide And Information

Getting Started

Export and Share

Animation

Shape

Important After Effects Skills

Masking

Text Animation

Motion Tracking

Expression

3D

Puppet Tool

Basic Character Animation

Character Rigging ( Auto / Manual )

Creating After Effects Templates

Effects and Presets
Bali Kandir

Best Course

My es course ko joen Karke bahut hi acha laga . Mera jivan me bahut hi Khushi महसूस किया हूं।

VIKRANT SAWANT

Nuke software

Sir nuke ka bhi course ka tutorial kijiye muje sikhna hai compositing nuke

Shubham

Good in Concept clearing of the topics with basics

Very well explained the basics and all the related contents of the after effects especially in hindi, KUDOS!!

Rafeeque Ali

Super teaching

I am from Kerala I really enjoy your Teaching Thank you very much sir.

Manohar Devkar

Complete Value of Money

I really appreciated Tausif Khalid sir the way he teaches us. I really enjoyed the online course. I thought it was well planned and layed out, easy for me to follow. To be honest , this was my first online class. I am looking forward to taking more online classes. The experience of this class has being nothing but positive. Thank you Tausif Khalid sir.